ROONEY KEEPS THE BRIT HOOLIGANS HAPPY...
...at least we can hope.
The kid is alright.
Wayne Rooney, already a star at 18, has scored four times in the past two games and England is on a roll, scoring lots of goals and winning impressively.
And with style.
This is a fast-paced English side that does not play with all defense in mind, much like the Premier League which breeds it. Wide open. Counterattacks. Pretty goals. The Brits are rolling, and fun to watch.
But they now face a major bump in the road...
During the second half of England's 4-2 win over Croatia, it briefly looked like it would get EURO 2004's Cinderella surprise, Greece, in the quarterfinals as the knockouts begin. Instead, two second-half goals from Thierre Henry against the Swiss helped earn the French a date with the Greeks, who know nothing about being this far in a major tournament.
Hey, props to the Greeks, but France looks like a safe bet to make the semifinals.
Yep, England will instead get the suddenly strong Portuguese, the hosts, who are now feeling good, having recovered from their disastrous opening loss to Greece with a pair of wins.
I think it's reasons like this that the British don't like the French...at least on paper.
How happy must Portugal be after knocking out Spain, their more glamorous big brother next door? Once again, the Spanish don't fail to disappoint.
Bye-bye, Spain. Maybe next time...or the next.
AT LEAST AARON ROWAND HAD THREE HITS...
...because the rest of the boys only had one - combined.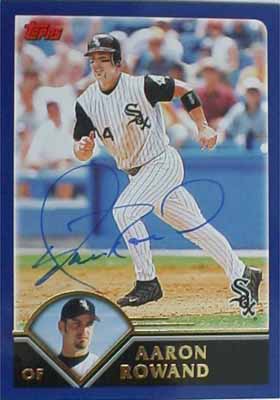 OK, I officially don't like C.C. Sabathia's sideways, stiff-brimmed cap...not after he shutdown the White Sox on a dreary night at the Cell.
Yeah, yeah, yeah, Sabathia is good. I know it. How 'bout we make him our fifth starter. I'd love his hat then. Really.
In case you haven't noticed, the Indians have just reached the .500 mark at 34-34. This is a big series for the Sox against a team climbing the standings in the AL Central. The series is even more important when you consider the immediate upcoming schedule.
Cubs, at Twins, at Cubs, Angels. This is statement time. This is why Maggs is anxious to return. This is why a fifth starter is needed. This is why I'm nervous.
This is not a wise time for the Sox to continue a current cold streak.
"It's not time to panic. Every game is a big game," said Ozzie Guillen, as he complimented Sabathia and remained positive towards the treacherous road ahead. "Tomorrow is opening day."
Yeah, no kidding. And every inning-ending double play is not an option. Right, Juan Uribe?
It was nice to see Joe Crede double despite his supposed hand injury.
KERRY DOES GOOD
John Kerry announced this past week that he'd like to
raise the minimun wage
. This can't be a bad thing. Of course, Kerry then high-tailed it to Nantucket for some expensive rest, but we won't mention that.
Listen to this quote from Kerry:
"If a president can go out and fight for four years to provide over a trillion in tax cuts to the wealthiest people in America, we can fight for a few months to raise the minimum wage for the poorest people in America," Kerry told an audience at Northern Virginia Community College.
Word.
Look, raising the minimum wage would help alot of people, a concept unashamedly foreign to GeorgeBushCo., which is more into the "screw the poor and give to the rich" mentality.
Vote Kerry.
HAS ANYONE SEEN BRAD RICHARDS AND MARTIN ST. LOUIS SINCE THE STANLEY CUP FINALS ENDED...
...because something is up with the D-Rays.
Eleven straight wins! Lou Piniella may soon have to dye his hair or something.
Apparently, the D-Ray players were just waiting until the Tampa spotlight shifted away from the Stanley Cup-winning Lightning. Either that or Piniella is a really good manager.
This is a poll...Will the Devil Rays catch the Yankees and/or Boston?
A) Yes, this can (snicker) really (hee, hee) happen.
B) No way, you're $%#@ crazy!
MAYBE THIS IS WHAT JIM MORRISON MEANT...
...when he said, "They got the guns, but we got the numbers."
Abdulaziz al-Mogrin beheaded Paul Johnson in last week's latest sick beheading of an American.
Somebody killed Abdulaziz al-Mogrin. (The a-hole had it coming.)
A bunch of Saudis
were very happy about this
.
This marks the first time since Saudi Arabia began its fight against terrorism that portions of the Saudi population were openly pleased to see the morons of al-Qaida get thier dubious due. Props to the Saudi people for good taste.
To be honest, I don't have much confidence in the Saudi leaders. Anyone with a friendly history with GeorgeBushCo. makes me worried, if not slightly sick. But I think having the Saudi people - the PEOPLE! - on our side is a good thing. I mean, it can't be bad, right? We're talking millions of people here.
They're just folks like we're just folks.
Break on through to the other side!
WHAT TOOK THEM SO LONG...
...to realize that communication is not a bad thing?
India and Pakistan will set up a
nucleur hotline
, thus assuring conversations such as the following:
India: "Yeah, Pak? Wassup?"
Pakistan: "Nuttin, dog. Wassup wit you?
India: "Just wanted to see if you still had your arsenal?"
Pakistan: "You know it..and ready to go. You?"
India: "Yup."
Pakistan: "A'ight then."
It all seems kind of idiotic to me, but whatever.
IF IT AIN'T THE BULLS...
...wake me when he signs.
Tracy McGrady continues his search for a whole shitload of money and a situation that will make him feel all warm and fuzzy inside. I think I'll care, oh, about the time next year's playoffs begin.
This is a poll...Where will Tracy McGrady end up?
A) Orlando
B) Indiana
C) Houston
D) Phoenix
E) Detroit
F) Portland