Straight From The "Give Me A $#@% Break" Dept.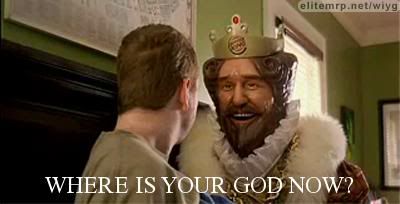 What is wrong with people? In particular,
this clown
? He thinks Burger King's ice cream cone lids are an affront to Muslims. No, I'm not making this up. Read the story.
The Enlightenment happened at half past 12 a.m. in Burger King, Park Royal. I had ordered my food, and a French guy got talking to me and asked, "Are you Muslim?" He said, "Look at this," and he showed me the cone. I saw it and I thought, "Wow," like anyone would. He said, "Turn it around."

I was thinking of my stomach. I was hungry. I would have loved to eat an ice cream. When I saw it, my mouth fell open. I dropped the ice cream. I canceled my order. That was the defining moment of my life.

The Burger King logo is there in Arabic. "Allah" is spelled exactly how it is there, and the Burger King logo is where the ominah should be. Why, there is no way it could be a coincidence. How can you say it is a spinning swirl? How does it spin on something that is static? You cannot spin it around unless you have a mechanical device. You spin it one direction, to the right, and it is offending a billion people.

I'm not talking about Muslims in the Park Royal vicinity, or in the U.K. I'm talking about globally. Everyone who sees this is going to be offended. If you put a different symbol on there, you're offending Jews, Christians, Sikhs, or Hindus. I am going to try my best in life, so that these people do not operate in a single Muslim country again, so that we get an apology to every single Muslim on this planet in their language, in their country, on a national TV station: "Sorry. We, as an American company, are sorry. We didn't mean to offend you."

...

In a way, I'm glad he did this to me. It has opened my eyes. The fear of God, the love of God, the love of not letting anyone disrespect God. Even though it means nothing to some people and may mean nothing to some Muslims in this country, this is my jihad. I'm not going to rest until I find the person who is responsible. I'm going to bring this country down.
Um, my friend, here's the thing: IT'S A FUCKIN' ICE CREAM CONE! Eat it and shut up. For fucksake.