Group E: Tough But Not Impossible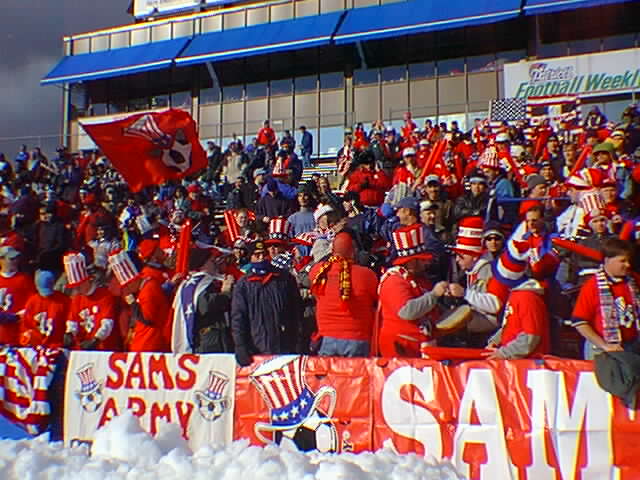 (Note: I realize the World Cup starts today and I still have three groups to go, but Blogspot has been virtually shut down the past few days and annoying me to the high heavens. Fuckers. Besides, several groups don't kick off for a few days anyway, so it's all good.)
The official FIFA rankings are pointless and utter rubbish. Any soccer fan with an ounce of common sense know this. That said, the United States is currently ranked fifth in the world, which, while misleading, is fact. Fact based apparently on lunar cycles and numbers compiled by drugged-up monkeys, sure, but fact nonetheless. If nothing else, it's nice to look at.
Also fact are the U.S. run to the quarterfinals in 2002 and the relatively easy run the U.S. made through CONCACAF qualifying, both of which were unprecedented accomplishments. Needless to say, expectations have changed. Nobody is going to run outdoors anymore to see if the sky is falling should the U.S. advance. Hell, just the fact that there are any expectations whatsoever surrounding the U.S. team is an accomplishment. It used to be that if they made it to the stadium without getting lost it was considered a good day.
So can they live up to the raised hopes?
That remains to be seen. Being drawn into a treachorous group with Italy, the Czech Republic, and Ghana won't help, nor does Landon Donovon's prematurely receding hairline. Hey, that can't help his confidence.
That said, there is no reason the U.S. couldn't squeeze through to the knockout stages. The Czechs are ancient in soccer terms and have encountered all sorts of injury problems heading in, though this could be a smokscreen as much as anything else. Italy, also battling recent injuries, is busy figuring out ways to brush off charges of cheating in its domestic league. Ghana, meanwhile, is making its first appearance. It's unlikely the U.S. can set the world on fire the way it did against Portugal in its 2002 opener, but it's possible they could be just as impressive in a more workmanlike fashion.
If anything worries me it's Bruce Arena's reliance on older, oft-injured players. Brian McBride is 33, Claudio Reyna was a major question mark just two weeks ago and probably one sharp cut from heading back to the bench, John O'Brien has only recently returned from a long layoff, and Damarcus Beasely hasn't looked like himself since his own knee injury sufferd while playing in Holland. That's a large portion of your offensive and midfield that is past it's prime and/or battling questionable fitness. Does this mean goals will be hard to come by?
If so, that puts a lot of pressure on a defense that was already far from imposing. If the U.S. has had one weak spot it's a backline that can be broken down, often in embarrassing fashion, at least once or twice a game, which is all the Italians or Czechs are asking for. Sure, Oguchi Onyewu will be arguably the most daunting physical specimen in the entire World Cup, but the likes of Eddie Lewis and Steve Cherondolo aren't going to frighten anyone. One mistake could be the difference in a 1-0 loss, which in turn, could be the difference in heading home early.
My guess would be that the U.S. represents itself well, but fails to advance. If that happens, it'll be a shame in a way because America is just begging for an explosion of interest in soccer and a good run by the U.S. could do wonders in this regard. I think soccer has grown enough here that we're past the point where any U.S. failure is a "blow to the future of soccer in this country," as many like to predict gloomily, but it sure would help to have the nation transfixed for a few weeks.
So here we go now.
I've already made my feelings on Italy clear
here
. Much to my chagrin, they'll probably be uninspiring yet do just enough to scrape their way into the second round. It's what they do, whining and moaning all the way. Should they finish second, they most likely would face Brazil in the second round, which would serve them right.
If healthy and in tune, the Czechs could be one of the true delights of the tournament. The likes of Pavel Nedved, Tomas Rosicky, Jan Koller and Milan Barros give them an impressive collection of offensive talent, a core group that could play some of the most attractive soccer you'll find. For that reason alone, it's hard not to root for them.
However, it's hard to fight the feeling that the Czechs, who have to be the oldest team in the tourney, are past their best and peaked at EURO 2004. For the sake of the U.S., hopefully this is the case.
Ghana are the ultimate mystery team. They've long been a power in Africa - winning several African Nations Cups and even a pair of youth World Cups - but have always come up short in World Cup qualifying for whatever reason. But now they're here and with talents like Michael Essien and Stephen Appiah, a trip to the knockouts is not out of the question. Ivory Coast seems to be the designer pick for people looking for an African surprise, but it could very well be these guys.
On to the second round: Italy and the Czech Republic
Group D
Group C
Group B
Group A