Arena Coming Home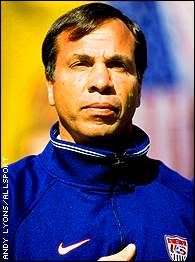 Bruce Arena didn't take long finding a new job as he was announced as the New York Red Bulls new coach yesterday.
As I've mentioned before, I've long disliked Arena. He went a long way in showing his true colors in the recent Wolrd Cup by a) having the U.S. team dreadfully unprepared, b) bickering with players through the press, and c) whining and making excuses about seeding and whatnot immediately after the U.S. was eliminated.
That said, his success as the national team coach was unparalleled, not to mention his stints with Virginia and DC United. Toss in the fact that Arena is a New York native and this looks like a great move for everyone involved. The Red Bulls (aka MetroStars) have traditionally been one of MLS's most dreadul franchises but I still fully expect Arena to change all that, maybe by as quick as next season. I doubt it takes long until the Red Bulls are a legit contender.
It's funny how only two months ago Arena's post-World Cup plans supposedly inluded a move to Europe. I'm sure Arena viewed himself as the tiumphant American who would conquer the world. How quickly embarrassing failure with the entire world watching changed all that. What European team worth its salt would hire Arena at this point?
Nah, Arena is right where he belongs - a big fish in the relatively small bowl of American soccer where he cn pat himself on the back regularly and feel important. Which is good as it should spare us all from listening to Arena whine.