Heading to KC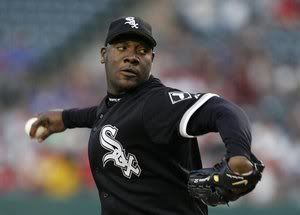 OK, the White Sox have a series with the Royals on tap and not many teams are as eternally beatable on paper as the Royals usually are. Jose Contreras and the soon-to-be-all-good Mark Buehrle pitche the first two games so I'm looking for nothing less than a sweep. Of course, the Royals played the Sox tough early in the year and I hope they remember that.
Oh yeah, fuck the Tigers and fuck the Twins.
I'll be honest, despite their residence in the AL Central, I can appreciate the stories of the Tigers and Twins. The long suffering franchise finally enjoying a dream season and the small-market little guys who could. I almost want to like them. Really, I do. Their warm and fuzzy. They feel good. In a baseball world full of assholes such as the Yankees and Red Sox buying pieces like black market babies, it's nice to find guys you actually don't mind rooting for.
But fuck the both of them. These stories have grown tiresome. I'm almost as tired of the Tigers and Twins as I am of hearing all the various excuses about the Sox' recent struggles floating around town like an unpleasant stench.
Listen, the Tigers pitching is about to crack. Have you seen Kenny Rogers' last few starts? Ug-ly. I picked up Zach Miner for a fantasy team and he hasn't been exactly lighting it up for me. And Bonderman's nightmare eighth-inning against the Twins yesterday will, if things go right, send him into a tailspin that would make Mel Gibson behind the wheel hitting a slick curve look under control. This story has Mark Fidrych written all over it.
The Twins? I applaud their consistency, and they're a solid team, but they have no Kirby Puckett.
All of that said, all the White Sox can do while biding time until seeing either the Tigers or Twins again is take care of business down in Kansas City.
Here we go now.