Five Straight Wins For The Fire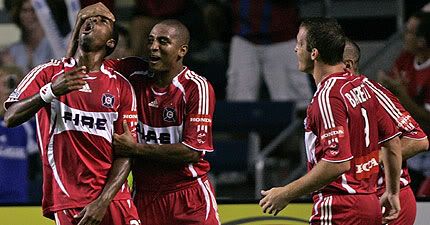 It wasn't long ago that Dave Sarachan's seat was hotter than Scarlett Johanssen in anything at all that could be described as skimpy. The howls of disgruntled Fire fans (yours truly included) were growing louder as Sarachan's questionable decisions regarding starting lineups and substitutions grew increasingly aggravating. Personally, I was having a hard time not making mean-spirited jokes about his tiny stature. (Sarachan must stand about 5'6" - tops.) Yeah, I try not to make personal attacks on coaches/players, but when a team is
losing
ground despite being on an incredibly long homestand, well, at some point all bets are off.
And I can't help it if Sarachan is dwarf-like. (I kid, I kid.)
Of course, nobody is making fun of Sarachan's slight stature at the moment, nor is anyone calling for his head. After a workmanlike win over Colorado on Saturday night, the Fire has now won five straight games, moved into second place in the Eastern Conference, and looks as dangerous as any team in the league. Sure, the Eastern Conference is borderline pathetic, but second place is second place. Hey, it looks nice in the sports section standings, right?
It seems Sarachan may have settled on the forward tandem that works best - Andy Herron and Chad Barrett. Both are similar players - quick, hustling livewires - and perhaps that's why they tend to link up well. Though neither scored against the Rapids, chances weren't the problem. The chances were there, no doubt. The finishing could be better, but as long as the chances are being created, I'll tend to believe that the goals will come - eventually.
Hopefully, Sarachan gives Herron and Barrett time to further strenghthen their partnership rather than conduct any more experiments with the frontline. It wasn't long ago that Chris Rolfe was deeemd the young stud up top with superstar potential and national team callups in his future, but he's become the Rex Grossman of the Fire, meaning his health, and subsequently his appaearances, are fleeting. Meanwhile, Nate Jaqua may have earned a mercy invitation to the MLS All-Star Game - let's be honest, if the game wasn't in Chicago, Jaqua wouldn't have been present - but perhaps he is best suited for second half runs off the bench. If a late goal is needed, send Jaqua and his sheer size in to wreck havoc on tired defenses. Sort of like Peter Crouch and England. Otherwise, Jaqua is best suited as a sub.
Dasan Robinson continues to be the feel-good story of the Fire's season. The rookie defender scored the lone goal on Saturday to beat the Rapids while teaming up with Tony Sanneh and C.J. Brown on the defensive line, which has allowed just one goal in its last five games. That'll earn you some success, eh? And could the young Robinson be in a better position than learning day by day alongside vets like Sanneh and Brown? Talk about Jedi Knights teaching a young Padawan. If Robinson becomes nearly the longtime MLS stalwart that Sanneh and Brown are, then the Fire's backline could have a rock for years to come.
When Robinson scored on a header from a Chris Armas corner kick, I wanted to believe that, symbolically, it was the passing of something - knowledge? leadership? wisdom? - from the team's unquestioned veteran sage to its promising kid. Maybe I was looking to deep into it. Maybe not.
There was no sign of the newly-signed Frenchman, Pascal Bedrossian, although I'm pretty sure I smelled him somewhere in the stadium. (Yeah, that was a horrible French joke.)
Speaking of jokes, I can't resist. I have to make just one smartass remark about Sarachan's height, or lack thereof. Have you noticed that the Fire is an unusually short team? The roster is loaded with plenty of short dudes, no? Herron, Rolfe, Armas, Thiago, Ivan Guerrero, Diego Gutierrez, Brian Plotkin. It's a bit uncanny, isn't it? It's almost like a team of jockeys. Each is barely eligible to ride a roller coaster. Perhaps Sarachan takes a liking to guys who face the same troubles he faced in his playing days as a height-challenged individual. Or perhaps he's just uncomfortable giving orders to guys he's staring directly up at. Maybe he has some sort of Napolean complex.
OK, no more height jokes. And that wasn't really a joke, was it? Just an observation.