Hammers Going Crazy, Looking Good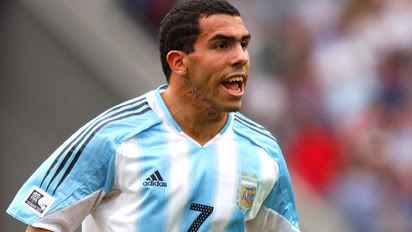 This is just crazy.
West Ham has signed two of Argentina's brightest young talents, Carlos Tevez and Javier Mascherano. Am I the only one who had no idea this was coming? Both had been linked to Manchester United and Chelsea and just about any other huge club with incredibly deep pockets, but West Ham? Shocking. The Hammers have just climbed a hill and bellowed their intentions to be taken very,
very
seriously.
It was only a year ago that West Ham earned its way back into the Premiership after an absence of several years and had a surprisingly successful campaign, even reaching the final of the FA Cup. Now they seem intent on shouldering their way in among the big boys permanently. Personally, I had already penciled the Hammers in to be a surprise team this season, but these signings give them a legit shot at earning a spot in the Champions League for next year. I think it's fairly safe to say that Chelsea, Manchester United and Liverpool will earn three of the four spots, and Arsenal would have to be considered the favorite for the final spot, but West Ham may have just changed all that.
Of course, South Americans have had spotty results playing in England. Traditionally, they tend to find more success in Italy, Spain and elsewhere. But Alan Pardew, for my money, is arguably the best coach in the EPL and I suspect he'll get plenty out of the two youngsters.
Bottom line? Things just got very interesting at the top of the EPL.