I'll Take It, But...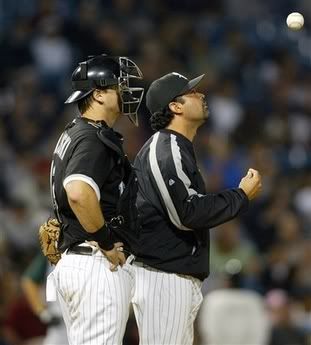 It was nice to see the White Sox take care of business against Tampa Bay last night, 12-9. Jermaine Dye further cemented his MVP claim with his 39th home run and Joe Crede collected four hits to inch his average over .300. This is all good.
However...
And this is a big however...
Giving up nine runs, especially to a team like the Devil Rays, is unacceptable. Un-fuckin-acceptable. Total garbage. Once again Freddy Garcia offered up a performance that can be described at best as mediocre. Meanwhile, the rapid demise of Neal Cotts continues. The dude must be hurt or having some serious psychological issues. Last year he was one of the most dominant middle relievers in the game. This year he has stumbled, and continues to get worse. Earlier in the year, I figured his dominance of last year was simply hard to live up to. His numbers were down, but overall, they were still dcent. But lately Cotts has been downright bad. Just awful.
Nine runs? Can't happen. Cannot happen.
Here's hoping the Tigers drop both games in the Bronx in their doubleheader with the Yankees. (Oh, how it hurts to root for the Yankees.) If this happens and the Sox win, then the AL Central deficit could be down to 3 1/2 games by the end of the night. We're getting there. Slowly but surely, we're getting there.
Here we go now.