Stadium Madness
In the last few days MLS has quietly broke ground on two new stadiums. Though you wouldn't know it, this is big news. New York and Salt Lake should both being playing in new digs by 2008.
Of course, the Red Bulls new stadium will actually be in Harrison, New Jersey. Going simply on the fact that Giants and Jets fans have been bitching about playing in Jersey for decades, I'm guessing the location could be better. It's a shame a stadium couldn't be built in a New York city neighborhood. The diversity, bars, restaurants, and overall vibes would have been great. I mean, it's New York City, right? Why play in in a Jersey suburb? But maybe that's just me.
Judging by this early rendering, the place is a beauty. I like how the roof extends all the way around (great for capturing fan noise) and I especially like the fact that there is not a stage at one end. As much I like Bridgeview Stadium, the stage end looks...tacky.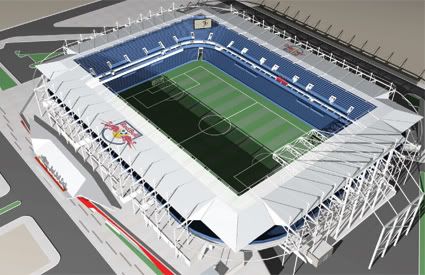 Meanwhile, Real Salt Lake also broke ground - with David Beckham holding a shovel - on its stadium, which if done right, could be splendid with the mountains as the backdrop. Last I heard, there were snags in getting a deal done, so hopefully, this will actually go down.
Couple the new stadiums with the league's recently signed deal with ESPN, which includes Thursday night primetime games, and MLS has actually made some genuinely positive progress in recent weeks. I love the weekday primetimne games. What else does ESPN have to show during the summer? Darts? If MLS can't best darts, we're in trouble. I think it can and I think all of the shiny new stadiums will look great in HD.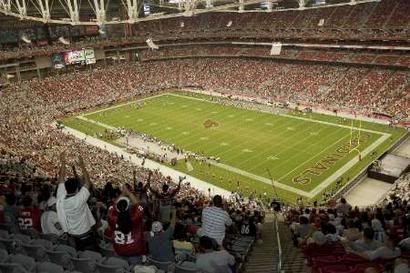 The Cardinals also unveiled their new stadium in a preseason win over the Steelers. Why is it that Bill Bidwell, arguably the most incompetent owner in sports, gets a new stadium deal when so many cities have been denied? This somehow doesn't seem right or fair. If this doesn't turn the Cardinals' fortunes around, then nothing ever will. A new stadium for the Buccaneers (and also new uniforms, which the Cards likewise snazzed up a bit just last year) did wonders in Tampa Bay in the mid-1990's. Remember how awful the Bucs were? It was hard to blame them for losing in the bright orange monstrosities they wore prior to then, and the new look and the new stadium changed everything. Tony Dungy helped, of course.
So you would think this is just the sort of situation that could actually turn around a diseased franchise.
But then it's the Cardinals, so probably not.