Sweetest of Sweeps
It's amazing how quickly vibes can change.
Two weeks ago the White Sox were in the midst of a horrendous slump that had even the most optimistic and faithful of fans quivering to the bone. As recently as Monday night, when the Sox trailed the Yankees heading into the ninth inning and were due to face Mariano Rivera, I couldn't help but fear that it might be a season-defining moment. Had they lost that game - the opener of the series, a home game against a contender - it just felt like something would have popped, like all the air would have come rushing out. They needed that win. Badly. They just did.
And then Konerko homered to send it into extra innings and the Sox won. It felt like a reprieve.
Now, less than a week later, the vibes couldn't be more alive and full of optimism. After completing a nifty sweep of the slumping Tigers, the Sox now sit a much more managable 5 1/5 games back in the standings, which still leaves plenty of work to do but is marvelous considering the lead was 10 games only a few days ago.
Of course, it has been the improved surge of the starting pitching that has made all the difference. (Well, duh!) After Jose Conteras' absolute gem on Fiday, Mark Buehrle showed on Saturday that perhaps it isn't time to write his obituary just yet. Striking out seven batters by the third inning is a nice way to announce that, yes, you've still got a little something left. Today it was Freddy Garcia, who while far from dominant early on, did what he always does when he's on his game: he pitched just well enough to give his team a chance to win. Meanwhile, the bullpen is more and more looking like a strength rather than that dark pit of despair where Cliff Politte lurks.
It also helps that the Sox are suddenly - and finally - producing big hits with men on base, the biggest today being a three-run double by Alex Cintron.
For the time being at least, all cylinders appear to be humming at maximum capacity. Of course, there is no reason to let up now. The Royals are in town for four games and they've played the Sox tough this year. Let us not forget this. The Tigers head to Boston, and although it'll pain me to do so, I'll actually be rooting for the Red Sox. On paper at least, the next few days should provide the Sox a great opportunity to climb even closer in the standings.
Which, by the way, may have the Tigers feeling a little tight these days. Today, Jim Leyland had issues with the umps in the fourth inning before Ivan Rodriguez suffered a breakdown of epic proportions in the eighth, which was a bit surprising. I would have thought that Pudge calmed down once he got off the steroids.
To be honest, I don't think the Tigers are going anywhere. Too good a team. Too good a mananger. Too good a pitching staff. But that pressure that comes with the first slump of the entire season that everyone kept warning of, well, it might be here. What do you think?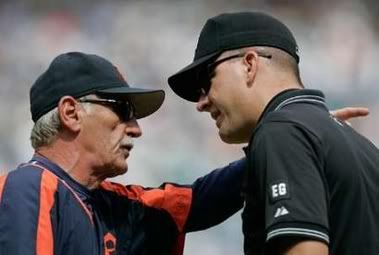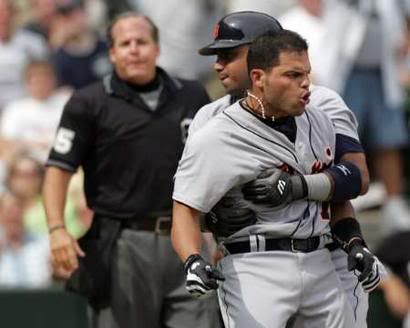 We're coming for ya, Tigers, we're coming for ya.
Here we go now.