This Is Not Good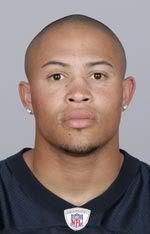 Mike Brown has an achilles tendon strain and will sit out the remainder of the preseason. The Bears contend it's nothing serious, and maybe it isn't, but if you're a Bears fan you have to wonder.
Brown missed nearly the entire 2004 season with an achilles injury and the last four regular season games of 2005 with a calf pull. He attempted to come back for the playoff game against Carolina but couldn't finish it, with disastrous results.
Brown has long been one of the best, and most underrated, safeties in the NFL, not to mention one of the all-around classiest guys you'll find in a league with its fair share of thugs and criminals. The sight of a brainy-looking Brown calmly and dilligently answering questions in his librarian glasses following yet another Bears loss - last year's success has
not
been the norm in during Brown's tenure - has been a regular occurrence around these parts ever since him and Brian Urlacher entered the league in 2000 and immediately began running the defense. Even during the lowest of times, Brown has been a bright spot, a team leader, and one helluva player.
The thing is, even though the Bears might not want to say it, and fans might not want to admit it, the post-Brown Bears defensive backfield must be looked at with sincerity. His health just can't be counted on. At this point, Brown's contribution should be considered a plus, but not imminent. Yeah, I'll be hoping as much as the next Bears diehard that Brown can go and that he returns to his dominant form, but at the same time, I'm also crossing my fingers that rookie Danieal Manning picks things up quickly. He may have to. He may not have the luxury of playing a backup role and slowly learning the NFL game.
In the meantime, here's hoping Brown heals quickly...and it sticks.