Valuev Coming To Chitown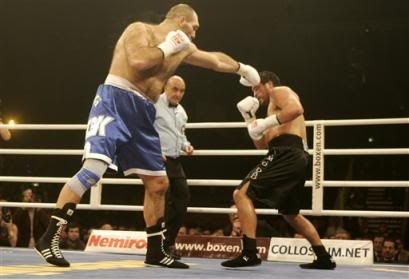 As I've mentioned in here on several occasions, I'm fascinated by Nikolai Valuev. I haven't even seen him fight yet or even read much as passing news clips are the most the media seems to want to offer this inhuman behemoth with the 44-0 record and WBO belt to his name. But I'm fascinated nonetheless. Valuev looks like something fictional, like he could only be made up in somebody's mind. He looks like something you'd find only in a boxing video game or in a boxing movie where he plays the part of the monstrous, seemingly unbeatable opponent whom the movie's hero somehow beats in the end against all odds.
Except Valuev is real.
And as luck would have it, he's coming to Chicago. Valuev will fight Monte Barrett at the Allstate Arena on October 7. Of course, I have no idea who Monte Barrett is - and he's most likely just the latest bum in a horrendous heavyweight division - but I'm going to have to try to score tickets to this one if for no other reason than I'd like to see big time boxing bouts come to Chitown on a more regular basis and large, enthusiastic crowds will help. I'd like to do my part.
I've often heard of Chicago being a major player in the boxing scene long before my time. Apparently, back in the day, the legendary Chicago Stadium was the site of many monumental matchups. A return to those days would be more than welcome. Sure, Andrew Golata fought in Chicago once or twice to capitalize on the large Polish population, but pardon me if I wasn't overly excited.
Valuev? I could get excited about that.
Incidentally, I read yesterday that after Oleg Maskaev defeated Hasim Rahman over the weekend, all four heavyweight belts are now held by boxers from former Soviet states. Really? I'm no boxing expert, and I knew the heavyweight division was bad, but has it really become so awful that not even one big, badass American dude is out there these days? Really? And what is Rahman doing still fighting for titles? Things are so much worse than I imagined.