Champions League Underway (In Earnest) Today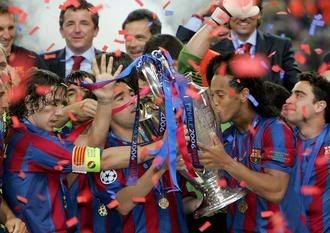 Now that the qualifying stages have come and gone, and all the minnows from fictional countries like Iceland and Cyprus have been cast aside, the Champion's League truly gets underway this afternoon with the start of the group stage.
As I've mentioned before, I honesttly feel that the CL will be huge in America someday - someday
soon
- so even if you're not a soccer fan by nature, it might be wise to enjoy the ride nonetheless. Just sayin'. It doesn't hurt.
So who will lift the trophy next May? Can Barcelona repeat? (AC Milan was the last repeat champ in 1989 and 1990.) Will one of the traditional big boys from the traditional big leagues win it, as is usually the case? Or will there be a surprise champ a la Porto in 2004?
We shall see. I'm going to take a wild stab and say Real Madrid beats Inter Milan in the final. Cannavaro will give Madrid the leadership and defensive mettle it has lacked the last few years and Inter Milan will reap the benefits of the Italian scandal fallout which landed them Veira and Ibrahimovic.
But my heart will be with Liverpool and Lyon.
Liverpool-PSV Eindhoven and Olympiakos-Valencia should be the best of today's openers.