Just Like a Dream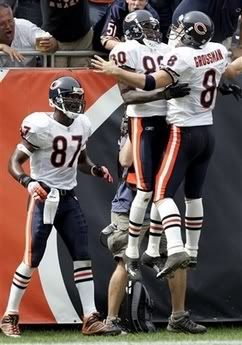 This dream is beautiful. In fact, I never want to wake up. In this dream a Bears quarterback threw for four touchdowns, three of which went to - get this! - tight ends. In this dream the Bears roster is ripe with capable receivers. In this dream the Bears have a return man that is dangerous. In this dream the Bears seem more than capable of being described as - dare I say it? -
explosive
.
Let me sleep forever.
Yes, the Bears offense is suddenly something beautiful and, no, it's not a dream. It actually happened yesterday. Rex Grossman was a gunslinger and he couldn't miss. Those positive glimpses that were always there in his brief appearances in the past are finally morphing into the big picture. The receivers, meanwhile, were popping up everywhere, finding any available soft spot in the defense and making the grabs. Bernard Berrian, if he isn't careful, is on his way to quietly becoming a star. His diving, all-fingertips touchdown catch was the prettiest Bears score in years. It really was. Tight ends Desmond Clark and John Gilmore combined for three touchdowns and, miraculously, the tight end position no longer looks like an endless black hole.
Special praise has to be saved for offensive coordinator Ron Turner. The last time the Bears had a solid offense - or any offense at all, come to think of it - was the 1995 team that was quarterbacked by Erik Kramer, who set all sorts of club passing records that year. The OC then? Turner. The OC now? Turner. Hmm. And don't I feel stupid. When the Bears rehired him before the 2005 season, I was thoroughly opposed. Yes, I admit it. I figured he had had been out of the NFL for a decade, and in the meantime, had suffered through a less than successful career as the head coach at Illinois. I thought he was damaged goods and that the Bears were desperately reaching into the past.
Well, I was wrong. Very, very wrong. It looks like the position of offensive coordinator is Turner's comfort zone and one he should have never left.
But let's not forget the Bears' bread and butter. As impressive as the offense may look, this team still belongs and will always belong to the defensive crew, which as one would expect, was its usual dominant self, aside for a brief letdown following halftime. (Let's not allow that to happen again, eh?) In fact, it's been a while since I've seen a Bears team compile so many hits that were downright nasty. They were absolutely
killing
anyone in a Lions uniform. There were a good five or six hits that were almost scary, like someone was going to get seriously hurt. My favorite moment of the day was when Lions WR Furrey took shots on consecutive plays. After the second, he tried to get up but quickly laid back down. He simply collapsed. He'd had enough. He was like a boxer who wants to stand but his body just won't allow it. It was symbolic of the entire day. Unfortunatley, Roy Williams - he of the guaranteed Lions win - was left standing, though he must be feeling pretty foolish this morning, eh?
Dogs after loose meat, baby, dogs after loose meat!
But let me pause for a moment. Here in Chitown, the praise and love of the Bears is abundant everywhere. As it should be. They have looked as impressive as anyone in the first two weeks and there is nothing wrong with pointing this out. However, instead of merely adding to all of the compliments, let's try to keep things in perspective and point out a few things that need to be worked on (Sorry to be a party pooper, but it has to be done):
1) The next two weeks will be road trips to Minnesota and Seattle. No more pickinng on NFL bottom feeders like the Packers and Lions. The Vikings are 2-0 with both wins over 2005 playoff teams, while the Seahawks are also 2-0 and defending NFC champs. These will be tough tests, indeed. The ride really begins now.
2) As nice as it is to see the passing game for once not look like the running game's weak sister, I'd like to see a bit more production out of Thomas Jones and Cedric Benson. Yes, they both showed a few promising flashes, but in the end, TJones averaged only 3.0 yards per carry. Hopefully, as they continue to recover from their preseason injuries, the pair become the scariest 1-2 combo of running backs in the league. I think this more than possible. I really do. I want these dudes running over, around, through people. Seven yards at a time, baby, seven yards at time. Eight!
3) Lovie Smith and his staff must improve in the replay department as they were horribly wrong on two occasions. One was a hit - and this was a
hit
, baby! - by Jerome Williams on a special teams play that resulted in Lions fumble and a Bears recovery - but Williams was flagged for a bad hit. But the hit was clean. (Listen, Williams almost too the dude's head off.) The FOX announcers were all over it and imploring Lovie to throw the flag as it was a reviewable play. The Bears have someone somewhere watching this stuff on the telly and communicating with Lovie, right? It was a no-brainer, a challenge the Bears almost surely would have won undeniably. But Lovie never threw the flag. Then in the second half, Lovie
did
throw the replay flag on a play in which there was clearly not enough evidence to reverse the call. He lost. Bottom line? Lovie and his staff were a glaring 0-for-2 in the replay department. Luckily, it didn't matter in this blowout, but such a play could prove huge in a closer, possibly bigger, game down the line.
4) Where's Mark Bradley? As awesome and the wideouts have been, they could be so much better if Bradley gets involved. Remember, Bradley was really coming on last year before his injury and entered training camp as the favorite to start alongside Muhsin Muhammad. But he's been mostly unseen. If Bradley can get on track, Grossman has one more toy to work with.
5) Grossman's interceptions. Granted, when Boss Bailey intercepted Grossman and ran it back for a touchdown, it was negated by a Lions penalty. Still, it was an ugly throw, and if not for yet another dumb flag on the Lions, that TD would have made the score 24-14 and completely changed the complexion of the game. Grossman, as good as he has looked, still has plenty of room for improvement.
OK, I'm done with the bad stuff. I just wanted to get it off my chest. I will now return to basking in the glow of the Bears great start.