Luck? Smarts? Whatever, A Win Is A Win
Fire 2 Red Bulls 1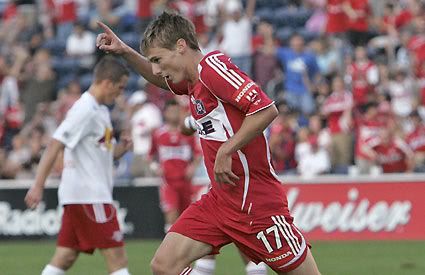 Sometimes you get on a roll and that roll is so good that regardless of what you do, you can't mess it up. Lady Luck is on your side and she loves you and she's looking out for you and your every mistake. With her on your side, you can't go wrong. Of course, the Unknown Column knows nothing about such a roll, sadly, but it's what I hear.
It appears that the Fire, and specifically head coach Dave Sarachan, are on just such a roll at the moment. No matter what lineup Sarachan trots out there, or what subs he makes, it's all working at the moment, even when it seems it shouldn't.
Plug in the backup goalkeeper making his first start of the year? Sure.
Start a forward who has missed almost half of the season with a bad hamstring only Terrell Owens could relate to? Why not?
Take out that same forward and go to an ultra-conservative, defensive lineup
at halftime
even though you're only up 1-0? Hey, go for it.
For a guy who makes plenty of decisions that leave you scratching your head, Sarachan, through sheer luck or genuine intuition - and that remains up for debate - has definitely been pushing the right buttons of late. By extending their unbeaten streak to seven games (including six wins), the Fire remains the hottest team in MLS and continues to make their claim as a legit contender once the playoffs begin. I'd dare say they're peaking at the right time. Though to be fair, in the weak Eastern Conference, everyone can be considered a legit contender.
With a starting lineup that featured only five players who started against Houston last Wednesday and with a clash with D.C. United in the semifinals of the U.S. Open Cup coming up this Wednesday, you had to wonder if the Fire were due for a letdown. Instead, the eternally banged-up Chris Rolfe scored in just the 13th minute and gave Fire fans a taste of what they've been missing while he been stuck on the trainer's table getting his hamstring massaged. (Come on, who can blame him for that? Is the team trainer a hottie, by chance?) Of course, Rolfe felt tightness at halftime and was removed as a precautionary measure with the Fire leading 1-0.
And this is where Sarachan's decisions became downright puzzling. And yet, in the end, they somehow worked out. It's all very Forrest Gump-esque, actually.
Sarachan inserted Diego Gutierrez, a defensive midfielder, into the lineup for Rolfe, meaning the Fire were willing to bunker down for the entire second half, hang back on defense, and, essentially, play for a stalemate the rest of the way. And any soccer fan/coach/player knows this mentality is just asking for trouble and backfires far more than it works. Oh, and it's extremely boring and generally lacking in guts. How many times have we seen a team go the ultra-defensive route only to see its precious lead ultimately surrendered anyway? Plenty. Just ask Spain, who took out both of its strikers against France with a 1-0 lead at the World Cup this past summer only to see France get the equalizer and ultimately the win. (Oh, the poor Spaniards. Will their misfortune never end?)
But this is the
lucky
Sarachan we're talking about. And the Fire are on a roll, baby. So what happened? Gutierrez scored. Of course, he did. When things are going good, they're going very,
very
good. It helped that the Red Bulls' Seth Stammler committed a horrible defensive gaffe that allowed Gutierrez a one-on-one break with the fossilized Tony Meola in the Red Bulls net, the sort of comical mistake that has haunted the New York franchise through the years regardless of what nickname they've gone by. Bottom line? The goal was a gift. Lady Luck, my friends, Lady Luck.
And there you have it. Sarachan comes out looking like a sage and smelling like roses. And how much of this was luck?
Probably more than you think.
Listen, it was a good thing New York surrendered such a cheap goal to double the Fire's lead. Why? Because, just as one would suspect, Sarachan's overly defensive mentality saw the Fire pushed back on their heels for most of the second half. By the end, they were being dominated and desperate to hear the final whistle. The Red Bulls came forward in waves, pulled one goal back, and could have had two if goalkeeper Matt Pickens, subbing for an injured Zach Thornton, wasn't the night's hero. By the time the ref called off the dogs, the Fire's defense was in tatters while their attack was nowhere to be found. New York was in complete control. This will happen almost any time a coach deliberately decides to play too defensively too early, as Sarachan had done on this night.
So was Sarachan lucky that his conservative nature didn't backfire and cost the Fire the full three points? Well, let's just hope that Sarachan is stocking up on lottery tickets at the moment.
Let us also hope that Sarachan gave Pickens a big thank you, because it was Pickens who ultimately allowed Sarachan to look like he knew what he was doing. After rarely being pressed into action in the first half, Pickens made several huge saves down the stretch, most notably a stonewalling of Edson Buddle. Even on the Red Bulls' goal, Pickens first made a fantastic save on a shot rifled by Dema Kovalenko, but could do nothing to stop the rebound from landing right in front of the wide-open John Wolyniec, who had to merely tap the ball in. Pickens was unlucky not to earn the shutout. It's too early to begin speaking of the post-Thornton era, but Pickens may be the goalkeeper of the future.
Of course, the Fire's curent roll cannot be attributed solely to luck. As the old saying goes, you make your own luck. And the Fire has been doing exactly that despite using makeshift lineups caused by mounting injuries. Credit given where credit is due.
Incidentally, the biggest satisfaction on the night came from knowing that Bruce Arena left with a loss. As I've mentioned in here before, I'm not a fan of the pompous Arena nor his man tits. I find it hilarious (and sad) that Arena was so quick to criticize MLS following the World Cup, saying that it was too weak to support a competitive U.S. national team. But then, when he realized nobody else would hire him and his sullied reputation, he came scurrying back to MLS with his tail between his legs. What a douchebag and hypocrite. As long as Arena is in charge, every Red Bulls loss will be sweeter than the last.
So now the ante is raised come Wednesday night in Bridgeview. A trip to the U.S. Open Cup is on the line, and as loung as the "double" is still out there as a feasibe goal, then I'm thinking big. Hey, why not? D.C. United will arrive in town with MLS's best record, but also as a team that has slowed from its torrid pace of early in the season. Peter Nowak's crew can be had.
Though it might take a little more than luck this time.
Here we go now.
Player ratings
(On a scale of 1-10; 10 being Maradona circa 1986, 1 being Landon Donovan against the Czechs in 2006.)Starters
Matt Pickens - 8:
Man of the Match and deservedly so. Had little to do in first half, but was bombarded for last half hour as Sarachan's ultra-defensive substitions led to the Fire being pushed back on their heels. Came up with save after save when needed, including a hard takedown of former Fire hard man Dema Kovalenko, which the crowd enjoyed.
Tony Sanneh - 6:
Usual steady self in the center of the backline. The defense grew continually more shaky as the game wore on, but that will happen when you deliberately choose to play too much defense.
Dasan Robinson - 5:
Shaky game for the rookie. The left side of the Red Bulls' attack was extremely dangerous in the second half, both Kovalenko and Buddle creating their chances in the area of Robinson, who was nowhere to be found on the New York goal. Also a bit shaky with the ball, too often relying on long clearances into the opposing end of the field, which led to easy turnovers.
Gonzalo Segares - 6:
Like referees and cornerbacks in the NFL, the less you hear of an outside defender the better. And Segares was rarely heard from in this game, meaning his side of the field was largely shut down to New York. Quiet and steady.
Chris Armas - 7:
Armas was his usual brilliant self. The rock in the middle of it all, as usual.
Thiago - 6:
Looked dangerous and creative in the first half, but was largely inconsequential in the second. This could have been the result of fatigue as he only recently returned from injury. Or it could have been the result of being called upon as, essentially, the other forward alongside Nate Jaqua in Sarachan's ultra-defensive lineup. He was out of position. Still, it was nice to see Thiago out there again.
Brian Plotkin - 5:
Produced a few nice balls with his huge left foot and has a clever understanding of diagonal runs and through balls, especially with Jaqua. However, I'd like to see him unleash more shots with that rifle of a left foot. Ironically, he missed a golden opportunity to score in the second half (after being set up brilliantly by Thiago) because he shot with his left foot when the right foot would have been the way to go.
Logan Pause - 5:
Pretty much invisible, though to be fair, not much excitement is expected from Pause in his role as a defensive midfielder. As long as he helps to stonewall the opponent's midfield, his small role in the offense is perfectly acceptable.
Ivan Guerrero - 6:
Looked dangerous coming down the left side on several occasions and was unlucky not to hook up with a surging forward for at least one assist.
Chris Rolfe - 6:
Hey, he scored, which is exactly what is expected of him, not to mention what has been missed while he nurses his injuries. Other than the goal, Rolfe wasn't overly active, but we'll chalk that up to being rusty.
Nate Jaqua - 6:
As I mentioned last week, the only role Jaqua is productive in is that of a striker. After looking lost against Houston on the right side of midfield, Jaqua used his height to mix it up in the box (although his timing can be embarassing at times) and has a knack for understanding nifty diagonal runs, either making the run himself or making the pass. One such pass almsot sent Carr through with a late clincher.
Substitutes
Diego Gutierrez - 6:
Entered the game at the half and didn't take much time to score. Playing with Armas and Pause, however, was probably an overload of defensive midfielders in the center of the field and the result was the Fire with their backs pushed against the wall. But that's not the fault of Gutierrez.
Ryan Johnson - 5:
Came on for Guerrero in the 70th minute but was hardly heard from in his short run. He made no colossal mistakes, and that's a start for the youngster.
Calen Carr - Inc.:
Carr gets an incomplete as coming on in the 89th minute gave him little time to make an impact.