Put a Fork in Them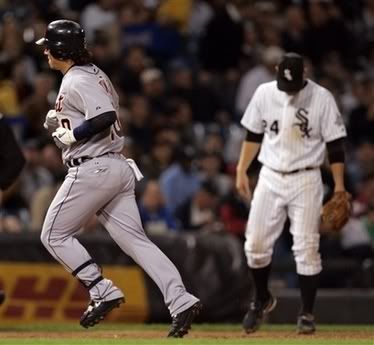 It's over. It's all over. Put a fork in the White Sox because they're done.
Tonight's sad 8-2 loss to the Tiggers was the proverbial final nail in the coffin. Ozzie and Kenny Williams can begin thinking of what moves they'll be making in the offseason because this team needs a major shakeup. I'll stop short of saying a complete blow up is necessary, but there are some dudes who need to be gone.
Listen, I can stomach not making the playoffs. The Twins are consistently one of the smartest, most successful franchises in baseball and the Tiggers have a good thing going with a fantastic young pitching staff and a wise old general in Jim Leyland. The Sox were beat out by good, solid baseball teams and I can handle that.
What I can't stomach is the shocking lack of fire displayed by this team. There was never any sense of urgency no matter how late into the season it got. There was never any inclination that they were going to go down with a helluva fight. Hell, there was never even a look of panic in their eyes, which would have at least been
something
- and much better than the depressing, lacksadaisical, carefee manner with which this team carried itself with. Yes, the worst part was the blank stares, the empty faces, the looks of utter nothingness. They were like walking dead.
Lifeless. Depressing. I've seen more spunk in a morgue. I think some wide-eyed, anxious youth is needed next year in the dugout because these guys had me contemplating things while looking at bottles of pills and ropes and razors. Sylvia Plath had nothing on this group of joyless, melancholy losers.
It has all been pathetic. No stealing bases. No hustle. No nothing. Just one guy swinging for the fences after another. What happened to so-called Ozzieball? What happened to manufacturing runs?
I suppose we shouldn't be surprised. The 2006 season is eerily similar to what the Sox have done for most of the decade. They finished in second place in 2002, 2003, and 2004. In each of those years they were in the race and had a chance to make a run in the second half and each time they went down with the same depressing fade as they did this year. Look, 2006 is much more in line with recent Sox history than the glory 0f 2005.
How ironic is it that a day after Frank Thomas finished putting a whole bunch of nails in the Sox's coffin over the weekend, Magglio Ordonez hit a home run that put the Tiggers up 4-0? The ghosts of the Sox's recent past are out and about. Ozzie and Williams must be thoroughly embarrassed. Of course, until Big Frank or Maggs have a World Series ring, the Sox will always have the last laugh, but still, for the moment at least, they've made the Sox look like chumps.
All I know is this: Ozzie and Williams better stack next year's pitching staff like a mofo. Pitching, pitching, pitching.
Pitching.
Pitching.