Splendid Start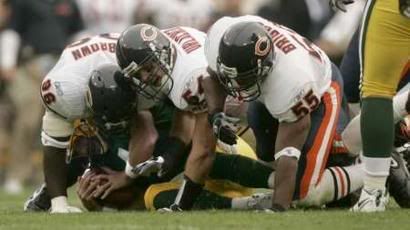 Before we begin planning the ticker tape parade down LaSalle Street for sometime in early February, let's keep a healthy perspective on the Bears' 26-0 rout of the hated Packers to open the 2006 season.
Look, the Packers are a bad, bad team. Awful. Possibly the worst team in the league. We could be talking pre-Brett Favre Packers football. Do you remember how bad that was? Does the name Don Majkowski ring a bell? Favre was foolish not to retire, or to at least take his services elsewhere for one last shot at glory. Mike McCarthy is a rookie coach who may soon be wishing he held out a little longer for a head job. Ahman Green is old. Lambeau is overrated, a boring, outdated stadium that belongs in the Big Ten, not the NFL. No, it's not a good time to be a Packers fan, nor are the Packers a team to truly gauge yourself against.
So, in the immortal words of The Wolf from Pulp Fiction, "Let's not start sucking each others' dicks just yet."
That said, any Bears fan would be in denial if they claimed that yesterday's easy waltz in Lambeau hasn't stirred that part of their soul that dares to dream big, big, big. That's what happens when you open the season with a perfromance that, really, couldn't have gone any better. And it really couldn't have.
After being raked through the coals throughout the preseason, Rex Grossman had the offense moving up and down the field. In the past, everytime a Bears quarterback went back to pass, you automatically thought a) here comes a turnover, b) please don't get injured, or c) this could be good for a few laughs if nothing else. Yesterday, when Grossman stepped back in the pocket and scanned the field, you actually looked forward to what the play might produce. It was weird. I guess this is what it's like when your team has a workable passing game. Who knew?
Hell, even the normally useless Desmond Clark was made to look good with five catches, which I believe matches the output of all Bears tight ends in 2005. Granted, if you really wanted to get picky, you could wonder why the Bears struggled a tad in the red zone, which is something they'll need to improve on, but other than that, the offense actually looked like a
real
offense from a
real
NFL team. Which is unheard of around these parts.
Meanwhile, the defense picked up right where it left off last year and saddled Favre with the first shutout of his career. After some careful number crunching, I've discovered that at its current rate, the Bears' defense is on pace to give up zero points this season, which would probably be some sort of record. And I think it's within reach. Brian Urlacher, Lance Briggs and the rest of the crew definitely had that dogs-after-loose-meat vibe going on. The Unknown Column loves that vibe.
Loves
it.
When Devin Hester ran back an 84-yard punt return for a touchdown in the fourth quarter, it was like, for that rarest of moments, everything was clicking. Offense. Defense. Special teams. Everything. I can't remember the last time the Bears had a legitimately scary return man, although I can clearly recall Bobby Wade and his nine fumbles by midseason last year when he pretended to fill the role. If Hester keeps this up, and the defense continues to do its thing, the Bears are going to win a lot of field position battles. And if this happens, they could be downright downright scary, especially if both Thomas Jones and Cedric Benson are healthy and productive.
So, yeah, it's good to sit here on a Monday morning and feel like things are looking up, up, up for the Bears.
But let's be serious. Let's keep a finger on reality. Let's just be thankful that there were no serious injuries and pray to the football gods that this health continues. Let's look at Detroit coming up this weekend for what it is: a team that took the Super Bowl Seahawks down to the last play of the game yesterday. Let's remember that there are teams far better than the Packers out there and that it's a long season. Let's not get too excited.
But, just to be safe, let's keep LaSalle Street open on February 9, 2007. That's the Friday following the Super Bowl.