Still Hot, Officially in the Playoffs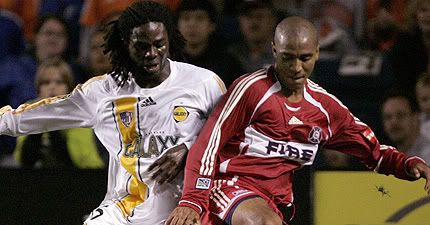 It wasn't like there was any doubt that they would, but the Fire clinched a playoff spot on Saturday night with a 2-1 win over the Los Angeles Galaxy. (Of course they did; nearly everyone makes the playoffs in MLS - more on that later.) More importantly, the Fire remained scorching hot, winning for the tenth time in the last twelve games (with a tie mixed in there as well.) With only four games left until the playoffs begin, hopefully the Fire continues to peak at just the right time.
Chris Rolfe calmly tapped in a handy, low cross from Justin Mapp to put the Fire up 1-0 only 38 seconds into the game and proved yet again that if he could only stay healthy he could be a good one. After Landon Donovan had tied the affair in the 78th minute, Andy Herron put the Fire ahead for good only six minutes later by being being taken down hard by LA's Tyrone Marshall and then converting the ensuing penalty kick.
The win was a nice first act for the Fire, who will play the same Galaxy team on Wednesday in the final of the U.S. Open Cup.