Congrats to the Vancouver Whitecaps
This is a bit belated, but I wanted to say congrats to the Whitecaps for winning the United Soccer Leagues title over the weekend. And in dominant fashion no less, pounding the Rochester Rhinos 3-0 on the road in the final. Impressive. (For those not in the know, the USL is a step below MLS.)
I've always been a fan of the USL franchises that, somehow, someway, have managed to stick around since they were in the NASL in the 1970s (Whitecaps, Seattle Sounders, Portland Timbers, etc.) These franchises are true soccer survivalists and it's nice to see one of them win the USL title. They've been around since they were battling teams like the Chicago Sting and New York Cosmos, and even when there was barely a league to play in, they've survived in some shape or form. You have to appreciate that.
Perhaps the Whitecaps will be in MLS someday...especially if the Toronto expansion team is a success. There is currently a stadium being built in Vancouver, so maybe it's not too farfetched.
Also, this might sound crazy, but I have an idea...
I think the USL champ should somehow be allowed into the MLS playoffs. Why not? Do we really need, say, the fourth place, sub-.500 team from the Eastern Conference in the postseason. Not really, I say. Relegation/promotion will never happen in America, which is unfortunate, but allowing the USL champ into the MLS playoffs would be a step in that direction.
Am I being crazy here? Wouldn't this be a good idea? Wouldn't it be cool to see what the Whitecaps might do against the big boys if given the opportunity? It's about time MLS thought outside the box a bit.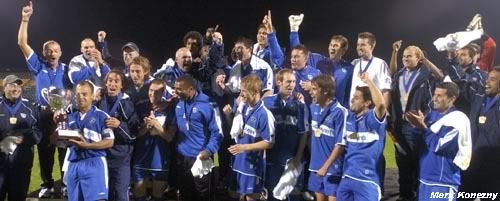 Speaking of MLS, the Red Bulls' Josmer Altidore is only 16 years old. In five games thus far, he's scored three goals. My money says this kid is eventually a better player than Freddy Adu. If nothing else, it will be interesting to compare the two youngsters as their careers progress. One was given unmatched hype (Adu) while one has come out of nowhere (Altidore). Stay tuned.