Monday Night Spotlight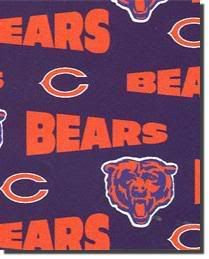 Only about three more hours until da Bears play on Monday Night football for the first time since ABC gave them a pity appearance for the first-ever game at the rebuilt Soldier Field. (The Bears were crushed by the Packers, naturally.) This is what happens when you win. You actually get some, you know, respect.
A few things I'd like to see tonight:
1) Several completely exasperated looks on the face of Matt Leinart as the Bears defense hounds him into submission.
2) 100 yards from Thomas Jones and 50 yards from Curtis Benson.
3) A touchdown for Muhsin Muhammad. Bernard Berrian, Rashied Davis, Desmond Clark and even John Gilmore have all found the endzone from Rex Grossman passes. I'd like to see Muhammad get a little reward for all the possession-type catches he makes over the middle.
4) Tony Kornheiser making fun of Joe Theisman.
5) A touchdown or two by the Bears defense.
Things I don't want to see tonight:
1) Kurt Warner's wife.
Random thoughts:
1) I'm looking forward to seeing the Cardinals' new stadium. Supposedly, the place is the shiznit so I've been wanting to check it out, although I'm disappointed that it wasn't named the Pink Taco Stadium, as had been rumored.
2) Whenever the Bears and Cards meet, I wonder what it would have been like if the Cards, the NFL's oldest franchise, never left Chicago. What would it be like to have two teams in the Windy City? Would the rivalry be as divisive and hateful as White Sox-Cubs? Who would I have been a fan of? Well, considering the Bears used to play on the North Side at Wrigley Field while the Cards played on the South Side at the old Comiskey Park - and I'm a South Sider - I may have actually been a Cards fan.
That would suck, eh? Being a Bears fan hasn't always been easy, but it's been paradise compared to what Cards fans must go through.
The pick? Da Bears 103, Cardinals -2.
Here we go now.