A Pig's Pigskin Picks - Week Six

Bears at Cardinals:
It's officially started. It's growing. It's sprouting wings, lifting up and floating. It has a pulse and and it's pumping harder and harder. It's red hot, loud and getting louder.
The hype, that is.
After running their record to 5-0 with yet another pummelling of a helpless opponent (Bears 40 Bills 7), da Bears have officially started the legit talk of greatness. Sheer greatness. Chicago is absolutely alive, giddy, and throbbing with hope. The next few months are being looked to with eyes wider than those of a child who has just seen Santa Clause enter through the chimney.
Where only days ago the talk of was of whether or not the Bears are for real, now it's of who they will face in the Super Bowl and if they can go undefeated. Joe Theisman thinks so and he knows everything. (Just ask him.)
19-0. Hey, why not? I believe. I really, honestly do. I always believe.
But let's be careful here.
While I hesitate to compare this year's team to the 1985 team, it's hard not to. Why? Well, it's one thing to win a lot. There's plenty of teams that do that. But rarely do teams win games week after week after week that are complete and utter blowouts. That's hard to do. There are too many solid teams out there and too many X factors. Inevitably, even the best teams play plenty of squeakers. In fact, winning the close games is usually one of the key ingredients of a great team. But much like that 1985 team, these Bears are winning while hardly breaking a sweat.
Look at some of the scores from the Bears' 1985 schedule: 45-10, 26-10, 23-7, 27-9, 24-3, 44-0, 36-0, 37-17, 21-0, 24-0, 26-10.
Now peep some scores from this year's team: 26-0, 34-7, 37-6, 40-7.
Damn. That's just filthy. Filthy. The current Bears are manhandling people, making them look foolish, embarrassing them, ripping their hearts out and dancing on them. Of course, this cannot be said without LOUDLY mentioning that it's still October and that there is plenty of season left and heads must be kept out of the clouds and we must pray to the football gods to prevent any injuries and to ask for a little luck to be on our side or a lot, please. And any other cliche you want to mention because they're not merely cliches - they're truth.
One game at a time. One series at a time. One down at a time.
On paper, the Cardinals look like an easy victim. But it's a Monday night game and the Cards' new stadium is beautiful so, surely, they will be a bit more amped up than usual to show their worth against the team that is quickly becoming the biggest story in the NFL. Things could get dangerous. Nobody can be overlooked. It's a long, long way from the clouds to the ground.
Matt Leinart looks more and more like he'll be one of the good ones, but in the meantime, the Bears defense must give him a welcome he won't forget. You know, knock him out of the game. Make him miss that easy life at USC when he had sun and success and sweet cheerleaders all about. Let him know that those days are done.
The pick? Bears 23 Cardinals 7
Straight up:
Da Bears
Spread:
Da Bears -11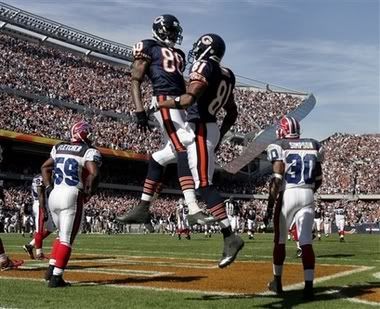 The Bears are flying - literally.
Bengals at Buccaneers:
The Bengals had a bye week to think all about the embarrassment they suffered against the Patriots. Talk about a team being exposed. The Bengals were left naked with the world watching and laughing. They remind me an awful lot of the Colts. You know, a great offense, but a questionable defense; a team that looks spectacular in the regular season but lacks that extra level of toughess when it comes to January and the games become brutal and defense-orientated. They could be facing just such a game this week when they face a Bucs team that has yet to win but has been playing teams tough, which surely makes them quite testy. Could be dangerous.
Straight up:
Bengals
Spread:
Bucs +5
Titans at Redskins:
Vince Young certainly isn't being eased into his starting role. Last week it was a trip to Indy and the Hoosier Dome. This week it's a trip to D.C. to face the Redskins and 90,000+ of their closest fans. The kid did alright against the Colts and nearly pulled off the upset of the year. We'll see what he does here. The 'Skins are possibly the hardest team in the league to figure out. One moment I think they're another solid Joe Gibbs club ready to play with the big boys, the next moment I'm having visions of the Heath Shuler era in the capitol.
Straight up:
Redskins
Spread:
Titans +11
Texans at Cowboys:
T.O. was whining again in recent days about his role on the team. Naturally, he wants the ball more and, naturally, he failed to mention the obvious alligator arms he had against the Eagles last week in the third quarter. The pot is boiling. The meltdown can't be far away, can it? Whatever. Other than the fact that he's on my fantasy team and thus I thoroughly agree that he needs the ball more, I honestly don't care. I just want T.O. to retire so he can go away and be forgotten. His story, really, is sad and pathetic, little more than an annoyance, no matter how long the brainless media continues to be enthralled by it.
Have you noticed that David Carr - lo and behold! - is actually having a solid year? Who knew?
Straight up:
Cowboys
Spread:
Texans +13.5
Bills at Lions:
The Dick Jauron "Welcome Back!" tour continues. One week after returning to Chicago where he was head coach, he's going back to Motown where he was defensive coordinator before landing his current gig (not to mention a Lions player many moons ago). Apparently, nearly the entire Lions offensive line is injured, meaning things can only get worse in Detroit.
Straight up:
Bills
Spread:
Bills -1
Seahawks at Rams:
Very quietly, the Rams are 4-1, though nobody seems to take them seriously just yet. A win here could change all that. Very unpredicatble game.
Straight up:
Rams
Spread:
Rams +3
Giants at Falcons:
After thoroughly dominating the Redskins, the Giants once again look like NFC contenders. For one week at least, Tom Coughlin was spared the wrath of his own players. Must be nice for him. Meanwhile, the Falcons appear to be the same old Falcons, meaning that as long as Michael Vick is healthy, they're a contender.
Straight up:
Falcons
Spread:
Falcons -3
Eagles at Saints:
A win by the Saints here against the high-flying Eagles would vault them from the status of a nice, little feel-good story to the status of straight-up media frenzy and make Sean Payton the king of New Orleans. You just know that the Superdome will be rocking, and you just know that most anyone outside of the Philly metropolitan area will be pulling for the Saints. Game of the week right here.
Straight up:
Saints
Spread:
Saints +3.5
Panthers at Ravens:
It was nice to see Brian Billick humbled under the bright Monday night lights last week. That 4-0 start by the Ravens undoubtedly had his immense ego reaching dangerous levels. Would I be asking too much to see him humbed again, but this time at home? Hey, it could happen. The Panthers seem to be slowly finding their groove after their rough start to the season.
Straight up:
Ravens
Spread:
Panthers +3
Dolphins at Jets:
Apparently, Joey Harrington is somehow becoming the No. 1 quarterback in Miami. Enough said. The Dolphins ship is sinking faster than a Yankees playoff choke job.
Straight up:
Jets
Spread:
Jets -1
Chargers at 49ers:
Philip Rivers is looking Super. <-----And notice the capital S. You know what that means, right? Then again, I'm already imagining ways Marty Shottenheimer might screw up another playoff run. How has he not reached a Super Bowl yet? I mean, other than John Elway heroics, of course. Damn, can you imagine losing to the same team three times in four years in the conference championship game? I'm guessing Shottenheimer has an Elway voodoo doll hidden away somewhere.
Straight up:
Chargers
Spread:
Chargers -10
Chiefs at Steelers:
I know Ben Roethlisberger has gone through a lot recently and that it all has possibly affected his play in a bad way. And, sure, he may snap out of it. But I'm beginnging to think he may be the most overhyped "serviceable" quarterback ever. You know, a caretaker, a dude whose job is merely not to lose games rather than to do anything spectacular. As far as Super Bowl-winning quarterbacks go, I'm beginning to think he's much closer to Trent Dilfer and Brad Johnson than Tom Brady.
Straight up:
Steelers
Spread:
Steelers -6.5
Raiders at Broncos:
While the Bears defense has grabbed the spotlight - and deservedly so - the Broncos defense has quietly been beyond superb. One touchdown allowed in four games? Wow. Not too shabby. So I wouldn't expect more than a mere field goal or two from the dreadful Raiders.
So who else is loving the sight of Randy Moss directly in the middle of the immense Raiders mess? Couldn't happen to a nicer guy.
Straight up:
Broncos
Spread:
Broncos -14.5
Straight upLast week:
14-0
Season:
34-10
Against the spreadLast week:
7-7
Season:
23-21