Unbelievable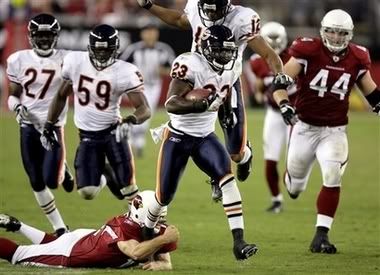 Run, Devin, run: Devin Hester runs his leg of the miracle.
The phrase "Team of Destiny" is tossed around often. Maybe too often. Sometimes a team is just really good and that's why it wins. There are no miracles involved. No special forces. No tugs from the universe that won't allow the story to end any other way. No, sometimes a team is, simply, good.
But sometimes - sometimes - teams really do seem to have a special relationship with destiny. Yes, I believe it can happen. And I'd like to think that the Bears 24-23 win over the forever unlucky Cardinals tonight was a sign that maybe - just maybe - someone or something in this universe of ours is looking out for these 2006 Bears. Why? Because the Bears had absolutely no right to win that game.
But they did.
Yes, despite trailing 23-3 with only seconds to go in the third quarter, the Bears won.
Despite no touchdowns from the offense, they won.
Despite four interceptions and two lost fumbles from Rex Grossman, they won.
Despite barely a hint of a running game, they won.
This was about as unbelieveable, as surreal, a win as you'll ever witness. Two touchdowns from the Bears defense and another by the special teams in the final 15:02 of the game? Nah. No way. Right? You could write that into a movie and nobody would believe it. That just doesn't happen.
But it did.
When the offense was doing everything to revert to its former self - meaning it suddenly become completely and horrifically incompetent - Mark Anderson nailed Matt Leinart from his blindside and Mike Brown ran in the ensuing fumble. That made it 23-10. (Why does Brown always seem to find himself in the middle of these miraculous endings? Think 2001.)
Then Brian Urlacher stripped Edgerrin James and Charles Tillman ran in the fumble. 23-17.
Then Devin Hester ran back a punt. 24-23. Bears in the lead.
And all the offense was doing was watching.
Finally, after Leinart had driven the Cards to within easy field goal range, Neil Rackers missed wide left. I bet Rackers makes that kick 19 times out of 20.
If the Bears were the winners, then only the Cardinals could be the losers. No other NFL team could ever disintegrate like that. The Cubs could probably pull off something similar on a baseball diamond, but nobody else could ever pull off such a glorious choke job.
If destiny was involved, the Cards dutifully played their part.
So, yeah, maybe it's just the adrenaline of such a miraculous and impossible win running through my veins at the moment, but as the final seconds ticked off the clock of what should have been a Bears loss but wasn't, I couldn't help but think that these Bears might just have a touch of magic to them. Maybe all-important luck is on their side and that is never a bad thing. Maybe that's just wishful thinking, but I'd like to believe it is so.
Of course, there is, sadly, so much negative feedback about the Bears that comes from this game as well. Let's be honest, they played horribly, and not just Grossman. Oh, he was the worst of the bunch, but the Bears' horrible performance permeated the coaching staff and players alike. They deserved to lose, so let's not kid ourselves. And, of course, there are the injuries to Brown and Ricky Manning to begin fretting about.
But I'll save that for tomorrow morning. (This morning, actually.) For the time being, I'll go to bed fresh with the rush of seeing a game I'll never forget and the hope that this Bears team has a date with destiny.
Hey, why not?
And the miracle is complete: A football god suddenly sneezes and Neil Rackers and his holder, Scott Player, watch Racker's potential game-winning kick sail only inches wide left. Personally, I think Rackers missed because he couldn't stop laughing at Player's facemask - which is totally old-school and awesome, by the way.