Starting Over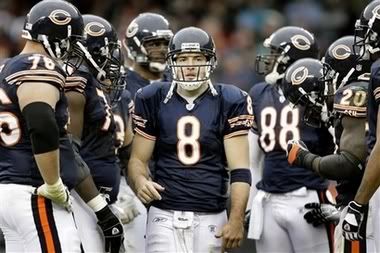 It is certainly an interesting time to be the Bears - or a Bears fan. After becoming the darlings of the NFL, one horrible loss to the lowly Dolphins has changed everything. At the exact midway point of the season it seems things have gone back to the starting line. An entire reputation needs to be rebuilt. Fans are jumping from the bandwagon faster than Donald Rumsfeld was shooed away this week. The so-called experts have all dropped the Bears way, way down their rankings and can't stop talking about their many sudden weaknesses. Brian Urlacher's toe is hurt and Bernard Berrian's ribs bruised. And now three straight road games against solid teams loom on the horizon.
I guess this is the proverbial fork in the road. I guess this is where we learn what the Bears are made of.
And Chitown is nervous.
Rex Grossman has suddenly become the main target of the new skepticism, not to mention criticism. And, yeah, some of it's deserved. You can't throw the senseless interceptions he has without attracting the wrath of some. The calls for Brian Griese, just as in the preseason, are once again growing.
But let's slow down here. Grossman recently made his 16th start in the NFL, which means that, essentially, he has one full season of experience. So, yeah, growing pains should still be expected. How many top-flight quarterbacks struggled early in their career? Many. He's still finding his way.
And the fact is, Griese's upside just doesn't match that of Grossman. Sure, Grossman has had two bad games (OK, unforgettably awful) against the Cardinals and Dolphins, but he's also put up passing numbers that are completely unheard of around here. All Grossman needs to do is learn to eliminate the big mistakes. I know this is easier said than done, but in time it will happen. Or at least that's what I tell myself. Hopefully, that time comes by the playoffs. But opening up the wound of a quarterback controversy midway through the season just wouldn't be smart. The Bears are lucky enough to be in a bad division, which means they currently hold a seemingly insurmountable three-game lead in the standings. They have room for error. Er, let me rephrase that: they have room to work with. So why would you choose to sit Grossman and turn your back on the fireworks he has proven to be capable of rather than letting him continue to work out the kinks before January rolls around? That wouldn't make sense.
Maybe Lovie Smith should pull out some of last year's game tapes and have Grossman watch Kyle Orton work. This may sound funny, but Grossman could actually learn something from Orton. He could learn that avoiding the killer mistakes is just as important as completing the long pass or even throwing the touchdown. This is what Orton did last year. And he won ten games as a starter despite passing the ball with the efficiency of eating steak through a straw.
No, this is not the time to dump Grossman.
Meanwhile, Plaxico Burress is yapping about how the Bears defensive backs aren't all that great. I suppose I might be more upset by this if Plax wasn't a mediocre receiver who only recently has begun to shed the label of being a first-round bust. Still, it would be nice to see him manhandled and maybe, you know, carried off on a cart. And take Eli Manning and Jeremy Shockey with him.
And if Tike Barber is sent into retirement early, so be it. I'll absorb the hit my fantasy team would take.
The bottom line is, this week is everything the Bears could have hoped for. A Sunday night showcase against a fellow NFC contender that will go a long way in determining who will have homefield advantage in the playoffs and the inside track to the Super Bowl. It's the type of game that seperates the men from the boys. After being humbled and brought to their knees last week, will the Bears stand back up? Will they shake it off and stick their chin back out their? Will they prove to be more than pretenders?
Maybe last week's loss will prove to be a good thing. Now that all the talk of going undefeated has disappeared, maybe the Bears can get their heads on straight. Maybe it'll make them hungry again. Maybe they'll return to seeking respect rather than basking in the glow of suddenly receiving it.
We shall see.
The pick? Bears 16 Giants 10