Gold Cup Coming to Chicago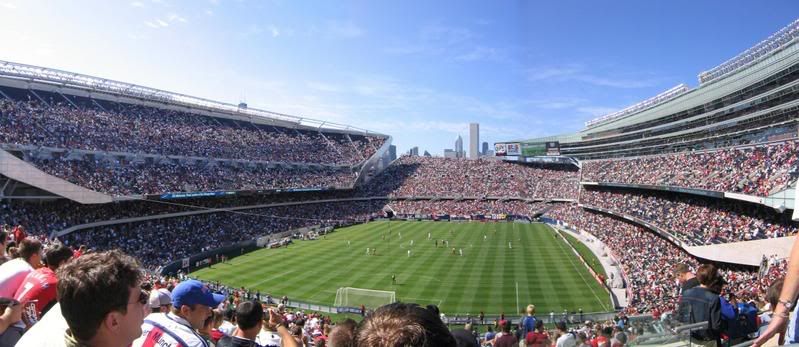 The semifinals and final of the 2007 Gold Cup are
coming to Chicago
. Soldier Field, to be exact. This is very cool news. The lakefront in the summertime.
For the non-soccerheads, the Gold Cup is the biannual tournament to decide the best team in CONCACAF, the region we play in. Of course, this debate is endlessly a tossup between us and Mexico, as the rest of the region is pretty much our bitches. And should, as expected, the U.S. meet Mexico in the final, well, Soldier Field will be positively electric. These teams do not like each other and rhe joint will be packed.
And there is sure to be more Mejeecanos that gringos in the stands.
Hopefully, we actually, you know, get some games in soon. It would also help if we, you know, hired a coach. I wonder if Jurgen Klinsmann is laughing at us at this point. I mean, could we look any more desperate and incompetent? At the moment we remain coachless and have yet to step on the field since the loss to Ghana to close out our nightmare World Cup. Which is absolutely criminal as the rest of the world has been playing games regularly, both friendlies and qualifiers. Everyone except us. US Soccer Federation president Sunil Gulati is the definition of clueless.
This mess is a joke that is no longer funny.
Do you mean to tell me we couldn't have played at least a friendly or two with an interim coach? I thinks we could have. It would have helped and it surely beats sitting around doing nothing.
Anyway, the Gold Cup should be a blast and, by the way, has one of the larger trophies in sports. It's almost big enough for Landon Donovan to hide in during the big games.