Trouble Brewing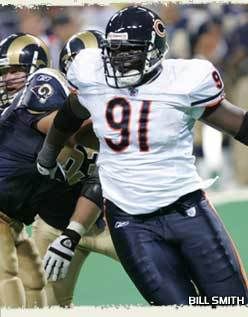 Tommie Harris' hamstring may be much worse than originally feared and the prospect of the ultra-stud defensive tackle missing the remainder of the season is a very real possibilty, prompting the Unknown Column to head directly to the nearest, darkest corner and curling into the fetal position.
This is exactly what the Bears didn't need. The dreaded major injury to a major player.
This is horrible, crushing, disastrous news. Harris has quickly become one of the best defensive players in the league and his absence would leave a gaping void, especially for a defense that has struggled against the run ever since Mike Brown was lost for the season in the secondary.
You really have to feel for Brian Urlacher in all of this. The heart of the Bears defense ran right up the middle like a glorious spine: Harris in the middle of the line, Urlacher at middle linebacker, and Brown in the middle of the secondary. That's probably (undeniably?) the best defensive trio in the NFL. And now? Now it looks like Urlacher will have to go it alone.
Maybe, just maybe, Harris can recover in time for the playoffs, which I suppose isn't that far out of the realm of possibility, or at least that's what I'm telling myself.
I'll be at church praying if you need me...once I get up out of this corner.